Join Our Moms Community, When We Love Life the Party Never Ends
Mom Want to Spend Quality Time with Your Daughter? And Meet Like-Minded Friends Come to Our Fun Sponsored Party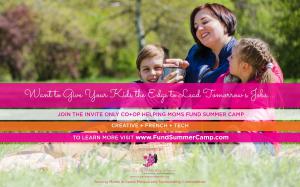 We Love to Help Kickass Moms Fund Summer Camp
Recruiting for Good will reward referrals to companies with 50% of proceeds to help make life better for 100 awesome single working moms and their kids in L.A..
Are You a Kickass Mom? Join Today, We Love to Help Fund Your Kids Fun"
— Carlos Cymerman, Servant Leader + Fun Advocate
SANTA MONICA, CA, UNITED STATES, October 15, 2018 /EINPresswire.com/ — Recruiting for Good is sponsoring Recruiting Donation to solve social problems and help fund worthy causes. Single working moms who participate in high purpose service and make a referral to help connect the staffing agency with a hiring company; will receive 50% of proceeds from first placement made to fund fun for kids and offset the cost of creative education (Art, Dance, Music), ticket events (music, sports, and theater), and summer camp.
According to Recruiting Donation, Founder Carlos Cymerman, "Our fun purposeful service is perfect for awesome single working moms who live in L.A. that love to gift their kids a great life. I am honoring my mom who did the same for me."
How Kickass Working Moms Participate
Meet Recruiting for Good founder, Carlos Cymerman in person for coffee in Santa Monica, email Carlos@OurMomsWork.org to set up an appointment, or come to one of our fun parties.
1. Introduce your best friend, dad/mom, husband/wife, girlfriend/boyfriend, nice neighbor, or son/daughter who loves to support your causes…and works for a company in the U.S. (or an executive at a company that you personally know a CEO, CFO, CIO, COO, or VP of HR).
2. When Recruiting for Good gets retained for a search, finds the company a great employee, and earns a finder's fee.
3. Recruiting for Good will donate 50% of the finder's fee to fund the cost of creative education, event tickets, and summer camp.
Carlos Cymerman adds, "We love to serve working moms who save money for the important things like college for the kids, and even retirement."
About
Recruiting Donation is a purposeful service for people who love to support their causes. Simply make a referral to help Recruiting for Good connect a person to a job; when a fee is earned 50% of proceeds will be donated to a U.S. based church, school, nonprofit, or to celebrate a kickass mom (help moms fund kids fun, 40 and 50 is beautiful,). We are all socially connected…now people can use their social contacts to change the world, and benefit their life. www.RecruitingDonation.com
Recruiting for Good is a socially progressive staffing company in Santa Monica, finding talented professionals great jobs, since 1998. Companies retain us to find the best talent in Accounting, Finance, Engineering/IT, and Marketing/Sales professionals. We reward referrals with fun life experiences. We sponsor www.OurMomsWork.org, and support Co-Op Celebrating Women.
Our Moms Work is a Santa Monica based community service sponsored by Recruiting for Good; offering cost free personal career mentoring services. In 2019, coming out with funded services to offset the cost of running a business for mom entrepreneurs and business owners. Our fun mission…"When we love life…the party never ends." www.OurMomsWork.org
Carlos Cymerman
Recruiting for Good
3107208324
email us here
Visit us on social media:
LinkedIn

Source: EIN Presswire